Want to Join the 7th Maryland ?

Sit a spell and let us tell you
what the 7th Maryland Volunteer Infantry Regiment is all about...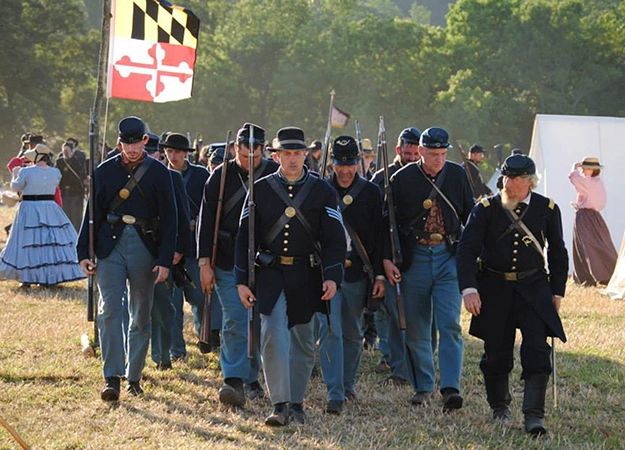 7th MARYLAND'S MISSION STATEMENT:

The 7th Maryland Volunteer Infantry Regiment was formed as a living memorial, providing a living history to honor the men and women who fought to preserve the Union during the War of the Rebellion from 1861 through 1865. The members strive to accurately portray the lifestyle of the period, with honor, dignity and respect to themselves, to each other and to those whom we honor.

PLEASE READ OUR LETTER TO FUTURE RE-ENACTORS

Dear Fellow Historians,


Welcome ot our website! Here you will find a great deal of information about the 7th Maryland.

Below this letter, you will see the 7th Maryland Information Center links that will allow you to look at:

- The 7th Maryland brochure
- A membership application
- Our Camp Journal archive
- A military equipment list
- A civilian equipment list
- Reenactor's Medical Card, which should be filled out completely and carried in every member's cartridge box during events.
- An approved sutler list, from which uniforms and equipment can be purchased, AND
- A brief regimental history of the 7th Maryland.


In addition, you will see links to get a better look at Life in the 7th Maryland whether you are military, civilian, or a child of the 1860s. You also will see a link that will show you one of the true joys of re-enacting - Camp Life.

You'll find our company to be one of friends and family. We are not a hardcore-style unit, but we make every effort to be as authentic as possible. As you may know reenacting can be very strenuous and physical. We urge you to be fit and in reasonably good health. You should be prepared to attend at least two company events within a 90-day probationary period, as we do not accept "blind" applications. We encourage you to come out to meet us, and for us to meet you.
Our Quartermaster can help to outfit you during your initial visits, if necessary. Should you have any questions, or need additional information regarding uniforms, material purchases or coming events, please feel free to contact me, General Jay Henson, or Capt. Jeff Bush.

Again, thank you for your interest in preserving Maryland and America's history and for your interest in the 7th Maryland Volunteer Infantry Regiment.

Sincere regards,
Gen. Jay Henson
7th Maryland Reg't V.I (US)
Federal Volunteer Brigade,
1st Reg't / 2nd Reg't
1st Reg't Cavalry

7TH MARYLAND INFORMATION CENTER